After the ground-coat it's time for the white opaque enamel. It's pretty much the same process as for the ground-coat. The surface is covered with white enamel
and then slowly dried in the makeshift oven
,
followed by force-drying on top of the kiln:
.
As before the piece can be sprayed on both the front and back before it's fired, since the opaque white wet-process enamel, after sprayed and dried, is firm enough to withstand gentle handling.
Once all fired in I get this set of ten: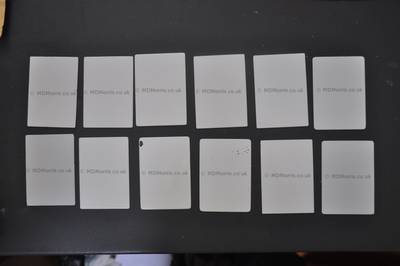 I've some surface defects on two of the pieces. So for these two I sprayed on another layer of white.
One of the tests was to compare the edge enamelling quality of a piece of steel that had had it's edge rounded to one that had just been left with a square edge. Here's a close-up of the square edge enamelled:
and here's the rounded edge:
.
There's not much difference, but the rounded edge is slightly better, particularly at the corners. You may need to go to the images in the gallery for the project and click on it to see it in higher resolution: square edge, and rounded edge.
I got an unexpected border pattern result, shown here: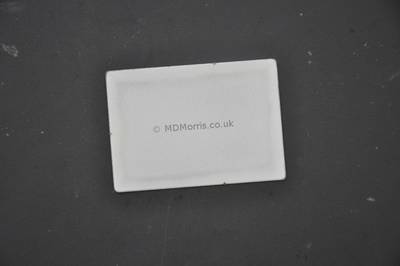 .
The pattern is on the side of the enamel that was sprayed first. I got it with the ground-coat too and I'm assuming it's an effect due to the over-spray settling on the first, already sprayed, side during the spraying of the second side. It means the two sides are not the same.
Also, as can be seen in the photo, the side which is faced down during firing gets trivet marks in the edge. These are where the trivet tapers inward.
Due to the two effects above it's important to put the first sprayed side downwards in the trivet when firing so that the two effects occur on the same side. It's also important to consistently spray the same side first so that the effect doesn't spread to both sides of the finished enamel plaque.